Adopting telemedicine in a healthcare practice
According to healthcare providers one of the greatest challenges standing in the way of telemedicine adoption is how to integrate digital healthcare into their day-to-day practice workflows.
Overcoming this challenge is not necessarily that hard but it requires a mind shift and a great deal of consistency.
The most logical place to start would be to channel all requests from patients via a single mode of communication. When patients send emails to your practice, WhatsApp messages to your receptionist, call the practice or even contact the doctor directly it can be difficult to keep track of the different requests, which may lead to a myriad of difficulties such as unhappy and frustrated patients not to mention the risk to the practice and to patients who may be seriously ill.
Given the not inconsiderable risks that are at play it simply makes sense to channel all communications to one platform. Whenever a patient contacts the practice it is important to request that they send the message to the preferred channel. In this way all queries can be managed and responded to via one central channel. It also makes it easier to invoice patients for electronic prescriptions, referrals or authorisations. In the previous newsletter we have highlighted the codes you can use to bill.
The suggested next step is to choose a safe, reliable and technologically superior telemedicine product from which to conduct your virtual consultations. It is important that the platform enables you to record your virtual consultations, write prescriptions and sick notes, and that the service also allows you to bill your patients. This information stored on the platform should be readily available whenever the patient has an in-person consultation again. An encrypted virtual platform that allows you to store and keep all your patient health records, doctors' notes and confidential clinical information at your fingertips is an imperative. In its simplest form, the telemedicine service should at the very least allow you to print or email this information to keep your patients' files updated.
Telemedicine adoption during Covid-19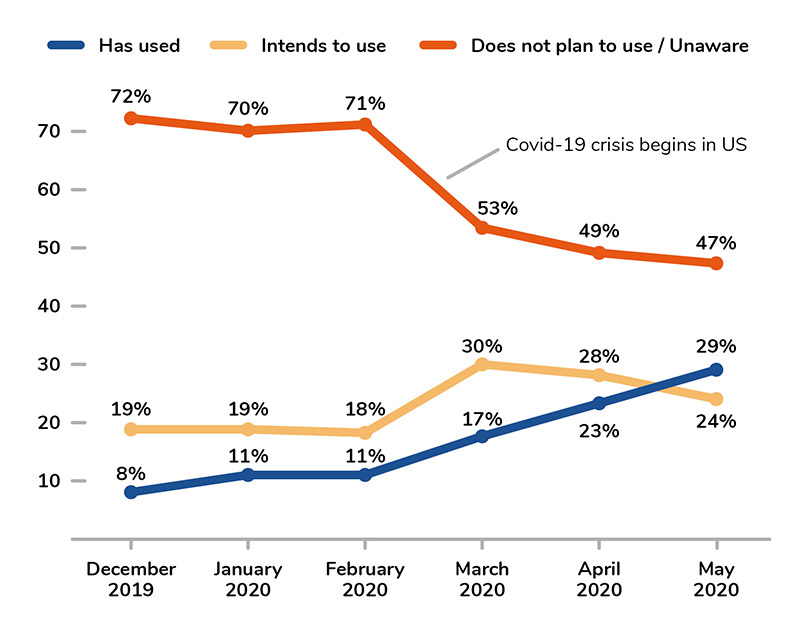 Reasons why telemedicine should become part of every healthcare practice
Virtual care visits will soar in the next few years. A massive shift to virtual care is causing providers to report 50 to 175 times the number of telehealth visits than seen prior to the pandemic.
Virtual visits are so easy to adopt because the technology requirements are fairly simple for both the patient and provider.
Providers are able to see more patients virtually than in-person, which allows you to expand your capacity.
In a recent survey conducted, 91% of respondents who have had a telehealth appointment said they were more likely to schedule a telehealth consultation in the future instead of going to the doctor's rooms.
Telemedicine offers much more flexibility when it comes to afterhours and weekend visits.
A doctor can use a telemedicine platform to schedule reminders for patients.